In the current circumstances, staying at home and staying safe is on everybody's mind which is why we have chosen 'Be Safe' as our theme of the week. This will include hygiene purposes to support the safety during the ongoing situation, alongside internet safety, road safety, stranger danger, how to stay safe in the home and outdoors and how we can keep our bodies safe and healthy.
These are all really important messages we feel need to be shared with our children to promote a safer way of living. Please do engage with any of the videos, printable activities or online games and stories that we have provided. Share your pictures with us too so we can promote our 'Be Safe' week :)
While a lot of our children are accessing online learning resources it is so important that we share esafety tips and keep our children protected when on the internet.
The picture above is taken from our esafety assembly story from earlier in the year. I have attached it below to share with your children again along with some extra resources.
For our children to learn and engage in a range activities either in school or at home, we need our bodies and minds to be safe and healthy. This includes regular hand washing, which is even more important than ever before. Practicing these routines of exercise, healthy eating and good hygiene will prepare our children for a safe return back to school.
Below are some resources to share with your children, but why not try and challenge your children...maybe a different piece of fruit a day? 20 minutes of exercise a day? Going to bed 5 minutes earlier each night?
A lot of children across the country have had much more time spent at home than ever before, this makes it so much more important for our children to know how to stay safe in their own home and gardens this summer.
Below are some resources to share with your children to help them decide and be active in decision making process of how we can keep ourselves safe in our home and garden. Once you have shared this with your children you could go on a hazard hunt to decide how you could make a safer space.
As the lockdown is slowly beginning to ease, we might be venturing out into the wider community. For this reason we have incorporated a stranger danger area to our 'Be Safe' topic, a life long lesson that is so important for our children as they grow up.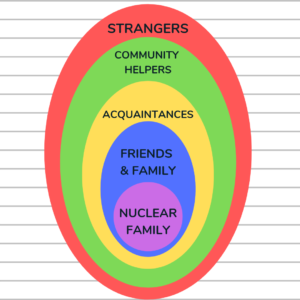 Below are some activities to support your children to understand who a stranger is, when we can talk to safe strangers (such as emergency services, police) and what to do if a stranger speaks to us.
Our final section of the 'Be Safe' topic is crossing the road safely. An activity that you could practice in your local area with your child. Reiterating stop, look, listen and think before we go to keep our children safe in the local area.
The super cats is a lovely story to share this important topic with your children in a friendly way with some linked activities to support their learning.
To finish our topic I have attached the song "We've All Got Rights" which we enjoy listening to at a lot of our assemblies. This song underpins why and how we can keep our children safe in a child friendly way for them to learn themselves.
Please do share any pictures, videos or copies of the children's work that shows them engaging with any of the videos, games or resources.
Lets all work together to keep our children safe.